Welcome to LitARTure
Where Literature and Arts go hand and hand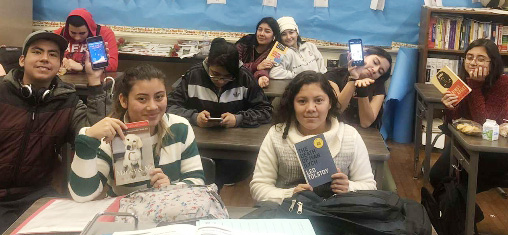 Bell High School has a new club for English and Spanish speakers, a club that focuses on improving the students' abilities to analyze, compare, and describe different novels or books. Moreover, once they are done with a book, the members of the club will watch a movie based on the book they read.
Everything started in room 223, where a group of students usually socialize during lunch. These students usually talk about homework or projects. But then another topic jumped spontaneously into their conversation.
"We were having a debate about which one was better: books or movies, " Jessica Escalante said. 
Who would have thought that a friendly debate would end up in the creation of a new club?  All these friends came to an agreement and then started brainstorming some names for their club. 
"We wanted to combine books and movies, but more than that, to create a connection between two subjects: Literature and Art," said Ms. Hidalgo, the advisor of LiteARTure.
After a long list of names, they stayed with LiterARTure, or LiterArte (the club's name in Spanish).
During the first meeting, the founders of the club talked about the purpose of the club: "We live in a community were video games, social media, and other activities have replaced the habit of reading. In this club we will bring this habit back."
"I think this is a fun place where we share ideas and opinions with respect to literature and arts," Wilma Escalante mentioned after the first official meeting of the club.
Many members already expressed their optimism and enthusiasm towards the club, and also suggested some interesting novels to read. Like Wilma Escalante, who excitedly talked about "The Notebook" by Nicholas Sparks. 
LiterARTure meets on Wednesdays and Fridays on room 223 during lunch. This is the perfect environment for anyone who loves sharing ideas or perspectives with others, and also a good place for avid readers in Bell High school.
View Comments (1)