Seniors! Time is money!
The FAFSA – Free Application for Federal Student Aid – means money for college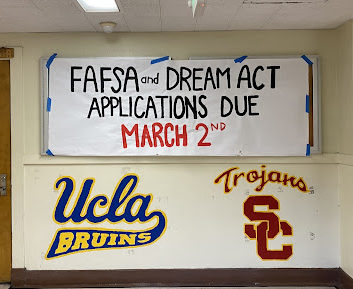 As March 2, 2022 approaches, many seniors anticipate the FAFSA (Free Application for Federal Student Aid) deadline, , while others are paying it no mind. College Center Counselors have been working hard to make sure they get the word of the deadline to all seniors. Mr. Marquez is repeatedly posting on Schoology about it saying to "Go to the College Center anytime with a pass for help!"
All those repeated posts seem to be falling onto silent ears since almost half of all seniors at Bell High School have failed to submit their FAFSA. "Right now 52% have submitted their application," Mr. Marquez said.  "They are losing the chance to get their college paid for."
Senior Adrian Hernandes shared the same opinion. "Yes, I believe students are missing out by not submitting their FAFSA,"  he said.  "They are missing out on free money."  Adrian submitted his FAFSA on the 11th of February, making sure to leave enough time for his application to process without troubles. 
With the deadline approaching at a fast pace, seniors are getting summoned to the College Center regarding their FAFSA progress. "The whole process was a bit confusing but coming to talk to the counselors at the College Center really helped me and I was able to finish my application," Senior Alexa Facundo said.
Seniors can take advantage of the help being offered by the College Center as well as the remaining time to submit their FAFSA or Dream Act Applications.