Diving Back In
"Swimmers take your mark," the referee announced…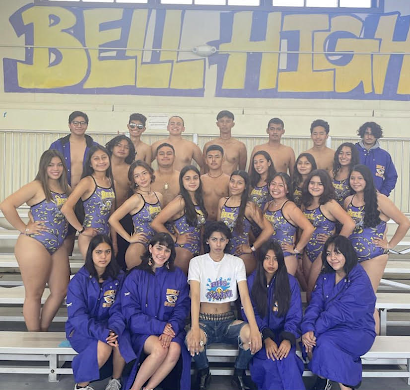 After two years of quarantine, the swim team finally returned to competition and made a comeback.
Swimmers worked hard during morning practice at Maywood High in order to drop time for their events.
"I personally feel super excited to be back after being quarantined," Swim Captain Suncee Marshall said. "I'm a very competitive person so I'm super happy about competing with other schools."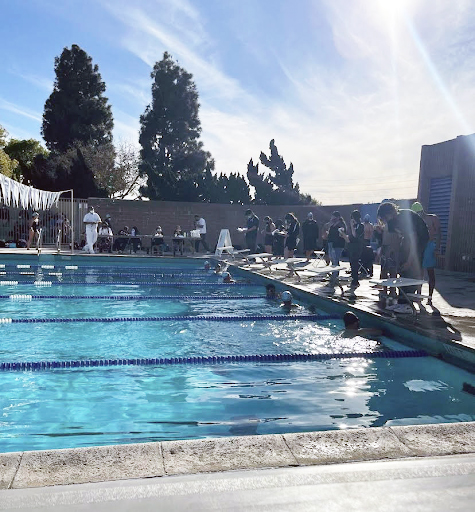 The first meet took place at Carson's City pool on March 2nd, 2022, The Bell swimmers were nervous. The final score was 90-96 with Bell High being 6 points away from victory.
 "Once students get nervous, they get this bad mindset that they won't do good," senior and former Swim Captain, Ivan Beltran said.
Lots of competitions followed, and the team has come back with four wins.
On April 20, The Bell High School swim team had their final season competition at Maywood. Swimmers were ready to compete but Maywood's swim team only had two people show up.
Bell swimmers still competed against each other but were not as anxious because they were mostly racing against their own team members.
  "The newest members have put in a lot of effort to keep the team going," Suncee said. "The JV girls stand out to me the most," she continued.  "I remember them being nervous about competitions and now, with all their hard work during practice and trying new events during practice, they have improved so much. I couldn't be more proud." 
All 30 swimmers are getting ready for League Finals on April 29.  They hope they stay undefeated.